Hello World! I've compiled a list of all the beautiful, aesthetically pleasing, black and white tarot cards that I've had the pleasure of running into! For the modern new age tarot readers like me, who need to be surrounded by beauty.
Disclosure: This post may contain affiliate links, which means I may receive a commission if you click on a link and make a purchase, check out our disclosure page!
Check out some more tarot decks!-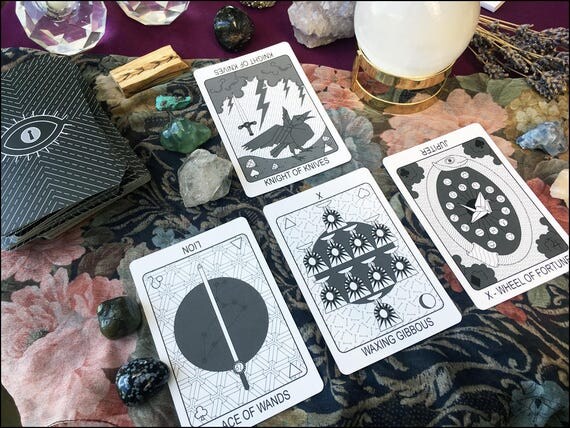 I personally, love to see eye symbols on my tarot decks, I feel that it helps remind you to open your inner psychic. The THE FOX TAROT deck has an eye in the center of the back of the card! I love the shapes that are incorporated in the faces of the cards, sacred geometry is very aesthetically pleasing. A very modern deck and ideal for minimalists!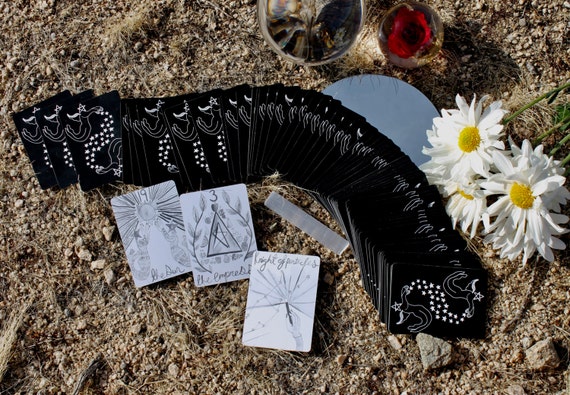 The Divina Tarot Deck is gorgeously simple and minimalistic. I wouldn't recommend this as a first tarot deck because there is not much symbolism to guide you to the meaning. On the other hand, if you're experienced this card offers nice imaginary.
The Efflorescent Tarot Deck: Black and White Card's is a very classically drawn set of tarot cards. The symbolism is easy to understand and a good option for first time deck buyers! The attention to detail sets this deck apart from the rest!
The The Hermetic Tarot deck is extremely intense! In a good way of course. The symbolism and attention to detail in this deck make it my favorite on the list! The more information, and imagination put into the art of the card, the better! It's hard to believe you can do so much with only two colors!
The Dark Exact Tarot Deck Second Edition deck is mostly black with white imagery which makes it different from the art on the other cards. A very dark deck with simple symbols and beautiful use of space. The symbols on this deck are a bit advanced for beginners, but if you're experienced you'll find the astrological and symbolic images impressive! "The Dark Exact Tarot represents the characters of the Major Arcana as plants, animals, objects, and alchemical symbols instead of the traditional human figures, offering the reader a chance to explore more personal associations and links to each card's content."- Dark Exact Creator
This deck can be bought as a Black Deck With White Lettering OR a White Deck With Black Lettering! "The Wanderer's Tarot deck is a hand drawn 78 card deck, based on traditional Tarot symbolism, and transmuted by feminine insight and awakening. " I love the feminine characters included in this deck. The cards are impressively unique in their imagery. Also included in a white background!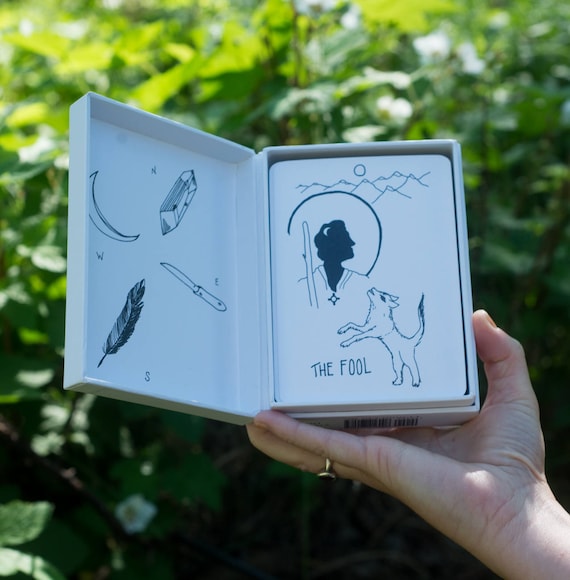 Thank you for reading this post! Happy searching and I hope you find a great tarot deck!